LBG Sicilia

As specialists in stabilizers, LBG Sicilia contributes with profound professional product and market knowledge about both standardized hydrocolloids and customized stabilizer mixtures. In collaboration with Procudan, solutions are developed for e.g. ice cream, dairy products, soups, sauces, dressings, fruit preparations and fillings.
A competent global partner
LBG Sicilia is an international company with over 20 years of experience in stabilizers and stabilizer mixtures. The product range covers both standardized hydrocolloids and customized stabilizer mixtures, which are put together by specialists with a focus on the individual customer's needs. Since 2013, a professional R&D center has ensured continuous innovation in both the production process and the product development.
LBG Sicilia are specialists in the properties of stabilizers and know how both standardized stabilizers and mixtures are best used in diverse applications. In both NPD and EPD development, an open joint dialogue is conducted about the optimal performance and consistency in collaboration with the customer.
Full transparency and high quality
LBG Sicilia complies with ISO and BRC certifications, which provide assurance of quality and transparency. Production is fully automatic, which reduces the risk of human error and prevents cross-contamination.
Stable supply chain
Via an efficient and flexible supply chain, LBG Sicilia ensures stable production. The goal is an additional vertically integrated supply chain with increased direct sourcing via cultivation of carob trees.
Focus on sustainability
The whole production process reflects a focus on sustainability. In the production itself, 99.85% of the production waste is recycled and at the same time the production is run by solar panels. LBG Sicilia's strategic goal is to eliminate the use of plastic and find alternative packaging solutions.
Procudan is the ideal partner
As Food Systems Product Manager at LBG Sicilia, Ettore Paolo Della Torre states:
We are really proud of our collaboration with Procudan.
Procudan's long experience in the market and the skills of the whole team give LBG Sicilia a strong presence in the Scandinavian area.
Being on the same wavelength regarding customer assistance, project development and constant innovation makes Procudan the right partner for LBG Sicilia in the whole region.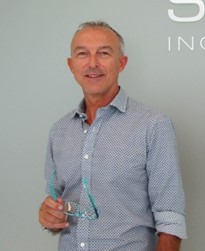 Ettore Paolo Della Torre
Product Manager
LBG Sicilia