We support handball
Our long-standing collaboration with the handball club KIF Kolding continues for the coming season 2021/22. At the same time, we are expanding i.a. with a player sponsorship of Norwegian playmaker Thomas Boilesen, and we enter the club's active collaboration with the business community - the network KIF Business & Sport.

Written on 04.08.2021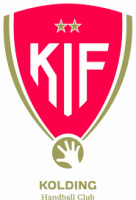 Extended collaboration
For over a decade, Procudan has supported Kolding's handball club KIF Kolding. For the 2021/22 season, we have chosen to expand the collaboration with the club on several parameters.
"KIF handball is one of Kolding's lighthouses, and we should be proud of that. There are some super talented people who are associated with the club both on and off the field, so I really believe in "Future KIF ". We have therefore chosen to extend our many years of cooperation with the club for the coming season ".
- Tommy H. Pedersen, Owner and Director, Procudan
An active part of the local community
At Procudan, we believe that value is co-created. KIF Kolding actively works with the same approach both on and off the field. As part of our CSR efforts, we support clubs that benefit local life and support an active leisure life.