Insight: What will we eat in 2030?
What characterizes the modern consumer, and what are the major trends that help determine what we put on the fork in 2030?

Written on 14.11.2019
Futurologist Birthe Linddal made her best estimate as to what we will eat in 2030 as part of Procudan's plant-based ingredient event (in Danish).
See video highlights here: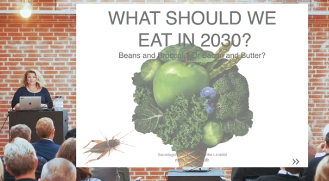 The key points of the foods of the future are:
Taste is also central to the foods of the future
Modern consumers are shifting their focus towards digital consumption, personal positioning and a desire to save the world - but are somewhat caught between ideal and reality
The modern (Danish) consumer spends more money on better and healthier food. The modern consumer lives up to eight characteristics:

Divide themselves into lifestyle groups
Will have more money
Optimize own situation
Have access to the world - and their consumption - digitally
Feelings over rationality
Personal positioning
Want to save the world, also through consumption
Trapped between ideal and reality (still limited resources)

There are several strong trends:

World-saving food
Climate Food
Veggi (vegetarian)
Animal-based vs. plant-based foods
New green diet